 We believe that everyone needs education to improve their capacity and understand the meaning of life and humanity
About Us
Riksawan Institute is a non-profit and philanthropy institution dedicated to empowering communities through education and advocacy programs. The institution established independently and provides an opportunity for all parties who wish to contribute to community empowerment programs, both within the framework of improving the capacity and accessibility of sciences. This institution is not affiliated with any political, ideological, organizational, or other interests other than the purpose of this institution. This institution is incorporated as a legal entity established by Notary and has been registered officially to the Ministry of Justice and Human Rights of the Republic of Indonesia.
International Journal of Global Community
International Journal of Global Community (IJGC-RI) is an open access peer-reviewed journal that is published by the Riksawan Institute. IJGC – RI published three times a year, in March, July, and November. IJGC – RI providing a platform and welcome for the researchers, academicians, professionals, practitioners, and students to impart and share knowledge in the form of empirical and theoretical research papers, essay, case studies, literature reviews and book reviews from all over the world. The spirit of the International Journal of Global Community is sciences for empowering people without discrimination. That's why the journal is free of charges for all of the stages but still keep hard of quality of the publication.  International Journal of Global Community publishes in both print and online version, publishes paper in the field of Social Sciences and Humanities studies, namely Human Rights, Social Justice, Communication, Sociology, Social Welfare, Anthropology, Cultural, Public Administration, Psychology, Philosophy, Political Science, History, Education, Women Studies and so on. Please visit the link https://journal.riksawan.com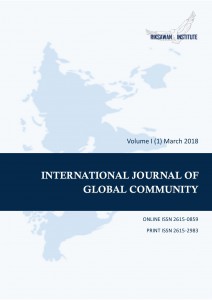 Announcement
---
Seminar Nasional "Urgensi Perlindungan Data Pribadi Di Era Komunikasi Digital" (National Seminar "Urgency of Personal Data Protection in Digital Communication Era) will be held in Hotel Redtop Jakarta, August 19, 2019. The speakers are: Dr. Edmon Makarim, SH, LLM (Faculty of Law, University of Indonesia), Wishnutama (NET Mediatama),  Dr. Dadang Rahmat Hidayat (Faculty of Communication, University of Padjadjaran), Kristiono (Chairman of MASTEL), Dr. Amirudin (Head of Program Studi Antropologi,University of Diponegoro) and Prof. Dr. Judhariksawan (Faculty of Law, Hasanuddin University/Chairman of RIksawan Institute)
---
International Journal of Global Community (IJGC-RI) Volume 2 No. 2 was published at July 29, 2019. Visit the website and please register to read and download the articles. It's free and open-access.
---
Call for Papers of International Journal of Global Community (IJGC-RI) Vol. 2 No. 3 (November) 2019. Deadline: October 28, 2019.
---
Seminar Nasional "Optimalisasi dan Industrialisasi Penanggulangan Sampah" Surabaya, September 2019 (Indonesia)
---
International Conference "Implementation European GDPR Towards Digital Enterprise in ASEAN Countries". Makassar, 2020